<! Filename : /public_html/net1prof.htm> <! Last modification: 2/11/2000 >
The Professor's Door is Open...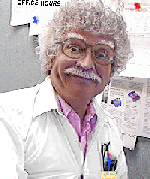 Ask Professor Foletta is a service provided to our visitors on the Internet. The 'Professor' will help all who have questions about data acquisition, analog electronics, microcontrollers or whatever. Send him your question by the submission form below or via e-mail to Prof. Foletta directly. Questions and answers are published here unless requested otherwise.
Thanks for your interest! SiliconSoft University
---
Ask Professor Foletta
Before you ask a question you should check his open door office policy. If you have your question ready open his office door.
Data Acquisition Questions: